Your wedding day is one of the most special moments in your life, and finding the perfect venue is crucial to creating a memorable experience. If you're dreaming of a hotel wedding venue in Suffolk, look no further than Hintlesham Hall. In this comprehensive guide, we will not only showcase the exquisite beauty and charm of Hintlesham Hall weddings but also provide you with valuable insights into trusted suppliers who can help bring your dream wedding to life.
Nestled in the breathtaking Suffolk countryside, Hintlesham Hall is a stunning hotel wedding venue that offers an idyllic backdrop for your special day. With its elegant architecture, beautifully landscaped gardens, and rich history, this Georgian manor exudes timeless charm and sophistication. Whether you're looking for an intimate gathering or a grand celebration, Hintlesham Hall provides a versatile and enchanting setting to fulfil your wedding dreams, with varying packages.
Expert Event Planning Services
Hintlesham Hall understands that every couple has unique visions for their wedding day. That's why their dedicated team of wedding planners are committed to helping you create a personalised and flawless event. From the initial consultation to the final details, their experienced professionals will guide you through the entire planning process, ensuring that every aspect of your wedding is executed exactly how you want it to be.
Trusted Suppliers: Bringing Your Vision to Life
Creating a magical wedding day requires the expertise of trusted suppliers who specialise in different aspects of the day. Hintlesham Hall has cultivated relationships with reputable vendors who can bring your vision to life. From bridal make up and florists to cake designers and entertainment providers, these trusted suppliers have been handpicked for their exceptional skills and commitment to excellence.
Capturing Timeless Memories
A skilled photographer is essential to capturing the essence and emotions of your wedding day. Hintlesham Hall works closely with talented photographers who have a deep understanding of the venue's unique aesthetics. These professionals have a keen eye for detail, ensuring that every precious moment and cherished memory is beautifully preserved for a lifetime.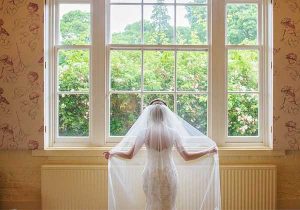 Creating a Flawless Atmosphere
Flowers, decor, and lighting play a significant role in creating the right ambiance of your wedding day. Hintlesham Hall collaborates with talented florists and decor specialists who have an impeccable sense of style and a deep understanding of the venue's aesthetics. From stunning floral arrangements to exquisite table settings, these suppliers will transform your wedding venue into a breathtaking space that reflects your personal style and vision.
Indulging in Culinary Delights
A wedding celebration is incomplete without delicious food to delight the senses. Hintlesham Hall's talented culinary team is renowned for their creativity and attention to detail, plus you will get to sample what they can offer ahead of your big day. From bespoke menus to exquisite presentation, our head chef will craft a culinary experience to suit your personal taste leaving a lasting impression on you and your guests.
If you're dreaming of a hotel wedding venue in Suffolk, Hintlesham Hall offers an enchanting setting that combines elegance, history, and natural beauty. With the assistance of their expert wedding planners and trusted suppliers, your dream wedding will come to life, filled with timeless memories and magical moments. Explore the possibilities that Hintlesham Hall weddings provide and embark on a journey to create an unforgettable celebration that reflects your unique love story.